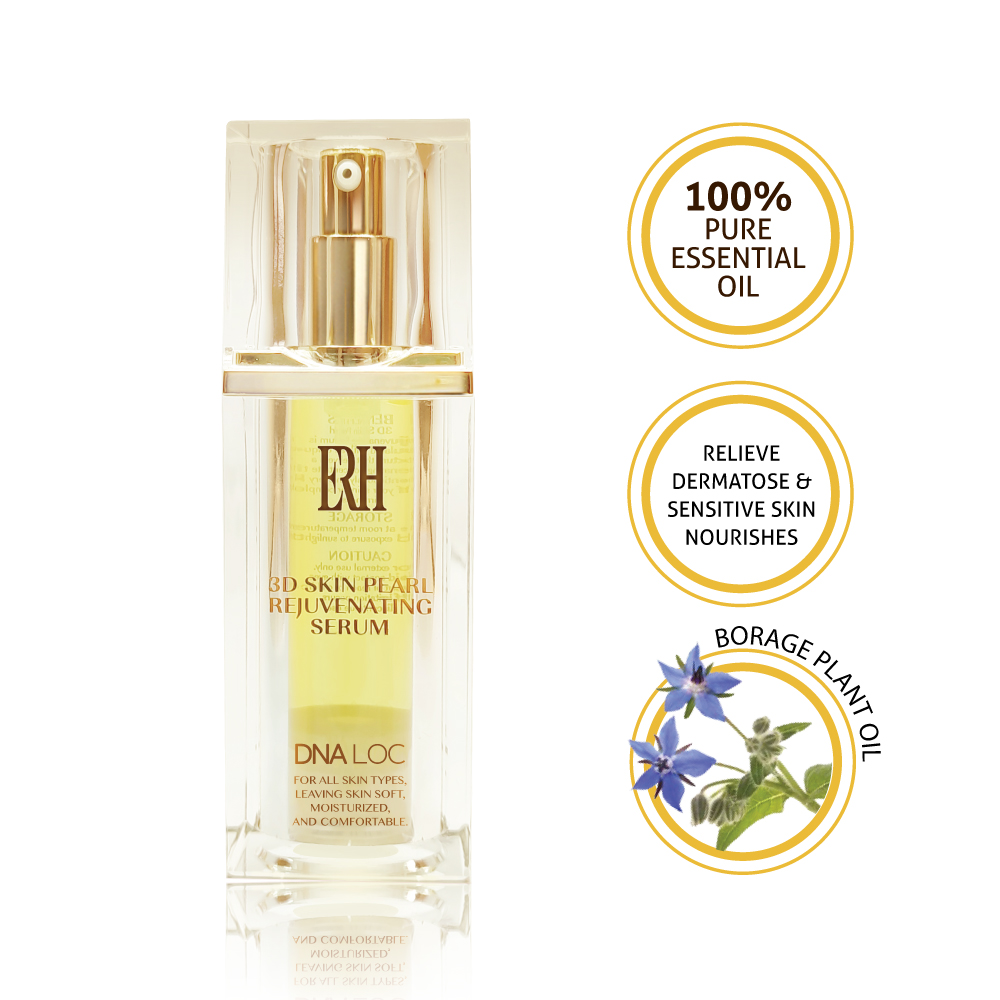 100% Pure Essential Oil
Description:
With Patented Pure Morrocco Argan Oil, Pumpkin Seed Oil, Jojoba Oil, Borage Oil with Omega-6 and Linoleic Acid; An all-in total solution with plentiful goodness for beautiful skin. Great Anti Oxidant and natural anti-UV pollution and aging.
Suitable Skin Type:For all Skin Type. Highly recommended for matured, sagging and dry skin type.
---
Product Description
3D逆齡修護精華油 介紹
3D SKIN PEARL REJUVENATING SERUM
更全方位的 油保養
4大親膚性油脂的成份:摩洛哥堅果油, 南瓜籽油, 荷荷巴油, 琉璃苣籽油,密集潤澤肌膚,呈現童顏外表,讓肌膚呈現超彈力、亮麗光滑,令人愛不釋手。
1.荷荷巴油:改善乾燥、給予肌膚潤澤
2.摩洛哥堅果油:抗氧化、修護熟齡肌
3.南瓜籽油:質地滑潤,滋養度較高,擁有許多寶貴的營養素,有很好的護膚營養。
4.琉璃苣籽油:質地很輕,馬上吸收的保養油,富含對肌膚極具保養功效之珍貴的亞麻油酸,改善乾燥、老化及皺紋
-----
精華油是由植物萃取而來、100%天然的油品,還含有大量的美容成分。
特別是「荷荷芭油」「堅果油」有抗氧化作用,能有效防止皮膚所分泌的油脂氧化,甚至有「防曬效果」。
精華油的好處:
促進肌膚更新代謝
防止肌膚水分流失
幫助肌膚修護
增加後續保養的滲透力
帶來柔嫩平滑的肌膚
醒膚效果超強
主成份:維他命B3, 異十六烷, 摩洛哥堅果油, 南瓜籽油, 荷荷巴油, 琉璃苣籽油, 維他命E
Niacinamide, Isohexadecane, Argania Spinosa Kernel Oil, Pumpkinseed Oil, Simmondsia Chinensis (Jojoba) Seed Oil, Borageseed Oil, Tocopheryl Acetate